Advanced Activator Method Chiropractor Advanced Proficiency Rated
Dr. Stakes is an advanced proficient activator chiropractor rated Doctor of Chiropractic in the activator method. This means he is one of the top chiropractors in the country in the most modern, precise, gentle chiropractic techniques available today.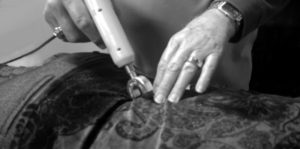 The Activator Method Technique uses a small handheld device called the Activator Adjusting Instrument to deliver mild impulse force to the back with the aim of restoring motion to the joint or the targeted spinal vertebra.
It is a low-impact, gentle alternative to the conventional manual type of spinal manipulation, called the high-velocity low-amplitude (HVLA) push. Unlike the force used in a manual adjustment, the activator is a more precise and elegant adjustment experience.
A spring loaded, handheld mechanical device called the Activator Adjusting Instrument supplies a fast, low-force impulse at the exact points that need treatment.
There are two theoretical edges of an Activator device-assisted treatment. The first is based on the rate of the apparatus. The device is so fast that the muscles of the body are less likely resist the treatment, and to tense in response. The treatment effectiveness may be facilitated by the deficiency of muscle resistance. The second is that the applied force does not add any added torque or bending motion to the joint and is localized.
The assessment of leg length is performed in conjunction. This evaluation is because clear differences in leg length help the Doctor of Chiropractic find out exactly where vertebral misalignments in the spinal column are present.
Dr. Stakes only uses the low-impact activator technique which most patients find is even more efficient than manual chiropractic manipulation. The activator is the perfect solution for patients who may have trouble with flare-ups caused by the force of manual manipulation. This can include patients with arthritis, fibromyalgia, soft tissue injuries and more. Many patients would never go back to a manual chiropractic technique after experiencing the gentle relief provided by the activator.
Dr. Stakes is a certified Advanced Activator Chiropractor practicing the activator method. This method is exclusively believed to be the most effective, chiropractic method available in history. He has been practicing for over 34 years and is known as "The Human Pain Eraser" for very good reasons.
Save
Save